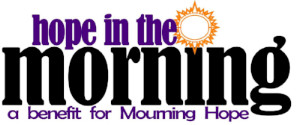 Mourning Hope exists because every child deserves the opportunity to grieve in a supportive and understanding environment. Because the death of a family member brings financial instability, along with other life-altering changes, our services are available at no cost to participants, and no family is ever turned away. Receiving no government funding or insurance reimbursement, we rely solely on private donations from individuals, businesses, service clubs and foundations.
To continue offering this kind of help for grieving youth in Lincoln and surrounding communities, we need your support. On April 26, 2018, Mourning Hope will host our annual "Hope in the Morning" fundraiser with special guest speaker Allison Gilbert. This invitation-only event brings together business and philanthropic leaders, elected officials, corporate partners, community members and grief professionals for an educational and motivational breakfast.
Please consider joining our amazing annual corporate partners by sponsoring the 2018 event.
2017 Partners
Platinum
Anonymous Donor
Stonebridge Insurance and Wealth Management
Swanson Russell
Gold
Modern Woodmen
Union Bank & Trust
Roper & Sons Funeral and Cremation Care
Silver
AseraCare Hospice
HoriSun Hospice
Nebraska Wesleyan University
Nelnet
Pinnacle Bank
Bronze
Abel Foundation                              HOME Real Estate
Ameritas                                           Nebraska Hematology Oncology
Bryan Health                                    New York Life
Eagle Printing & Sign                      Olsson Associates
Grafton & Associates                      US Bank
Frank & Elizabeth Hilsabeck
Other Partners
Capitol Heating and Air                   Ron & Chris Harris
Cornhusker Bank                             RBC Wealth Management
Jeff & Judy Greenwald                     UNICO Group
Garner Industries                             West Gate Bank
Green's Furnace and Plumbing
2018 Guest Speaker: Allison Gilbert
Allison Gilbert is the author of numerous books including the groundbreaking, Passed and Present: Keeping Memories of Loved Ones Alive, the first how-to book ever written that reveals 85 innovative ways to remember and celebrate the family and friends we never want to forget. Passed and Present has been featured in People Magazine and Arianna Huffington and Maria Shriver have tweeted about it. Gilbert's empowering and uplifting message sparked a major essay in O, the Oprah Magazine, the piece focusing on the power of nostalgia to fuel happiness and transform lives. Learn more about Allison here: allisongilbert.com.