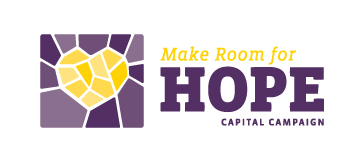 The Make Room for HOPE Capital Campaign will build a permanent home for Mourning Hope - a special place where thousands of children and families will find their way forward after devastating loss. In addition to housing Mourning Hope, the new facility will provide on-site wellness programs, offering therapeutic support services so families can thrive in the face of adversity.
Since its founding over two decades ago, Mourning Hope has operated from rental facilities. While the demand for grief support services is immense and continually rising, the physical space available for Mourning Hope's programs is vastly inadequate and impractical for optimal program delivery. Together with an amazing group of community leaders we are calling Team Hope, we will secure the future of Mourning Hope as a valued community service, while also expanding access and improving opportunities to connect families with other kinds of therapeutic, community-based support.
By ensuring more children and families will get the caring support they need at the right time, the Make Room for HOPE Capital Campaign will make Lincoln a stronger community for everyone.
Team Hope
Doug & Pam Ganz, Co-chairs
Dave & Terry Hansen, Co-chairs
Sarah David
Kerri Denell
Pam Dinneen
Barry & Susan Gourley
Frank & Elizabeth Hilsabeck
Jason McCown
Holly Ostergard
Donde Plowman
Carly Woythaler-Runestad, Mourning Hope Executive Director
Kate Holman, Mourning Hope Advancement Director
Ways You Can Get Involved
We are in the early stages of the campaign process. Members of Team Hope are reaching out to potential lead supporters, both for financial and in-kind support. If you would like to connect with a member of Team Hope, please contact Carly Woythaler-Runestad.
There are several meaningful ways you can get involved:
Follow Mourning Hope on Facebook, Instagram and Twitter, and share our posts. These will be your best sources for campaign updates and special events.
 
Share a story about how you "make room for hope." Was there a time you experienced a death or faced a crisis, but found hope? What made the difference for you? Was it another person? Were there words that helped, or a special activity? We want to hear from you! Please send your story to Kate Holman.
 
Join the email list for an upcoming community activity that will promote awareness about childhood bereavement and make room for hope.