Campaign Donors
Thanks to our generous lead donors, the Make Room for HOPE Capital Campaign is more than three-fourths complete. We are counting on additional supporters to help us reach our ultimate goal! If you are currently considering a campaign donation, now is the perfect time to Make Room for HOPE with a gift or pledge.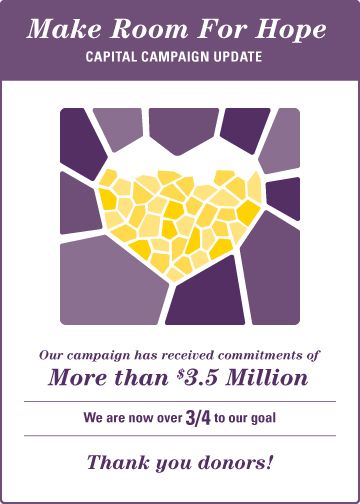 Champions of Hope
Contributors of $1,000,000 or more
Anonymous Family Foundation
Guardians of Hope
Contributors of $500,000 up to $999,999
Community Health Endowment of Lincoln
Rays of Hope
Contributors of $100,000 up to $249,999
Abel Foundation

Ameritas Charitable Foundation

Bryan Health

Doug and Mary Carper

Dillon Foundation

Terry and Dave Hansen

Nelnet Foundation

Pearle Francis Finigan Foundation
Robert and Ardis James Foundation
Scheels

Sunderland Foundation

Union Bank & Trust
Companions of Hope
Contributors of $50,000 up to $99,999
Kile and Virginia Johnson

Holly and Tonn Ostergard

Rogers Foundation
Pillars of Hope
Contributors of $25,000 up to $49,999
Gary and Deb Ahl

Assurity

Jeff and Sarah David

Dolezal Family Foundation

Doug and Pam Ganz

Elizabeth and Frank Hilsabeck

Hugo A. and Thelma Aspegren Charitable Trust

Lee and Debbie Stuart Family Foundation

Lincoln Industries

Donde Plowman

Theresa Farnsworth Wittman Charitable Foundation
Cultivators of Hope
Contributors of $10,000 up to $24,999
Anonymous private donor

Bob and Stacie Bleicher

Deb Buhro and Ron Kobler

Bill and Marilyn Cintani

Cornhusker Bank

Karen Dalke

Pam and John Dinneen

Donlan Foundation

Firespring

Al Friesen

Susan and Barry Gourley

Immanuel Vision Foundation

Kevin James

Jim Stuart, III Family Foundation

Sue and Vern Kittinger

Kylie and Jeff Legree

Lincoln Community Foundation

Dave and Marilyn Moore

Tim and Kate Pieper

Bill Mueller and Kim Robak

New York Life Foundation

Pinnacle Bank

Carly and Kurt Runestad

Runza National

Tom and Sue Tallman
Community Support
Mourning Hope has also received general operational funding from local foundations. Thanks to their generous support, we are able to continue to provide free grief support programming while simultaneously conducting the Make Room for HOPE Capital Campaign.
Woods Charitable Fund

Cooper Foundation
Several local in-kind supporters have come forward to support the Make Room for HOPE Capital Campaign as well:
ALLO

Black Hills Energy

Brooks, Pansing Brooks, PC

Campbell's Nurseries & Garden Centers

Custom Countertop Inc

Daltile

Eagle Printing & Sign

Edward's Stone

Bob & Jan FitzSimmons

Geri True Design

Glass Edge

H&L Electric

Hampton Enterprises

Harrah's Electric

Homes by Hughes LLC

Illuminations

Interface

Don Killeen

Meyers Sawmill

Music Go Round

Nebraska Nursery & Color Gardens

Pat Clinch Peace Project

Sinclair Hille Architects

Speedway

Sunderland Brothers

Swanson Russell

The Fireplace Center

TMCO

V2 Content