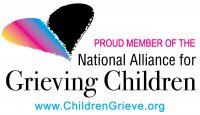 The National Alliance for Grieving Children provides a network for nationwide communication between hundreds of children's bereavement centers who want to share ideas, information and resources with each other to better support the families they serve in their own communities.

Childhood bereavement is a public health issue that has long been overlooked. The death of a parent or other important person in a child's life has been noted to be one of the most frequently reported disruptive childhood experiences. However, the prevalence of childhood bereavement is not well understood.

The Childhood Bereavement Estimation Model (CBEM) is a statistical tool developed by Judi's House/JAG Institute in Denver, Colorado, that uses population metrics to approximate rates of U.S. children and youth who will experience the death of a parent and/or sibling by the time they reach adulthood.

The New York Life Foundation provides bereavement resources for educators and families. Learn how to help children who might otherwise feel alone and lost as they navigate through their grief.

Key survey findings include:

-Childhood Bereavement Has Enduring Impact, But Support Is Short Lived: Americans who lost a parent growing up say it takes six-plus years to move forward, but support wanes within the first three months

-Public Conversation Around Loss Is Growing, Even As Societal Discomfort Persists: Despite growing dialogue, 63% of Americans still avoid grief conversations out of worry over saying the wrong thing

-Social Media Is Shaping Today's Grief Conversations, But Actions Speak Louder Than 'Likes': 58% of Americans say social media has helped them express condolences to people they otherwise wouldn't have, but many grievers prefer more personal forms of communication

-Support, Access to Resources Critical to Resiliency: Many Americans don't know where to turn for grief resources, but access to resources and ongoing support can help build resiliency in the face of loss

Eluna offers a comprehensive online library of carefully curated resources that provide the tools to navigate some of life's most challenging experiences. With the expertise of hundreds of supportive partners, the Eluna Resource Center offers a personalized set of articles, videos, activities and referrals that explore grief, addiction, bullying, suicide, mindfulness, mental health, and much more. The Eluna Resource Center, accessed by website, email and phone, reflects the individual needs of each family and child that needs support.

The Funeral Service Foundation created a booklet, ebook and video to help families and caregivers understand the important role funerals and memorization play in the lives of youth. Available in English and Spanish, the tools help debunk the common myths that prevent youth from attending or participating in funerals, offer age-appropriate language and advice on discussing death and funerals with youth, and give suggestions for youth preparedness, empowerment and involvement in memorialization.

The Coalition to Support Grieving Students is a unique collaboration of the leading professional organizations representing classroom educators (including teachers, paraprofessionals, and other instructional staff), principals, assistant principals, superintendents, school board members, and central office staff, student support personnel (including school counselors, school nurses, school psychologists, school social workers, and other student support personnel), and other school professionals who have come together with a common conviction: grieving students need the support and care of the school community.

The Coalition's purpose is to create and share a set of industry-endorsed resources that will empower school communities across America in the ongoing support of their grieving students.

What's Your Grief is, quite simply, a website about grief. The co-authors of the site are Baltimore-based mental health professionals with 20+ years of experience in grief and bereavement, and both have experienced the death of a parent and have dealt with life after that loss. Their mission is to promote grief education, exploration, and expression in both practical and creative ways.

The Widowed Parent project is committed to supporting widowed mothers and fathers with children in the home. They started in 2010 with a support group for fathers who had lost their spouses to cancer. The men in the group demonstrated firsthand the unique challenges facing widowed parents. The focus has expanded to include all widowed parents regardless of cause of death. The website and the current research project are their latest efforts to support — and learn about — widowed parents whose needs have been overlooked for far too long.

Return to Zero: HOPE is a nonprofit organization engaging a global community of bereaved parents and their health providers to improve mental health outcomes, while also advancing pregnancy and infant loss awareness, education, and support. They seek to transform the culture of silence and isolation around pregnancy and infant loss.

A college education is already a major financial challenge for most American families, but it becomes infinitely more difficult for a student when a parent dies, leaving little or no life insurance.

Recognizing the character and perseverance that so many young people show in the face of such adversity, Life Happens sponsors the annual Life Lessons Scholarship Program for college students and college-bound high school seniors. Qualified entrants who submit essays or videos about how the death of a parent impacted their lives are eligible for scholarship money.

Not If But When encourages and supports sharing good books and stories about death and loss with children and teens throughout their lives. Death is a natural part of our time on earth together. Each of us will lose people important to us, and each of us will die. The question is not if, but when. Children and teens facing the loss of friends and family, or their own mortality, need help navigating the emotional, physical, and practical upheavals and restorations that are part of the natural process. Books offer opportunities to ask questions, wonder, and simply acknowledge the realities of their circumstances.

SLAP'D (Surviving Life After a Parent Dies) is a social media site for teens who have lost a parent to find hope and connection through shared experiences. SLAP'D offers articles, advice forums, an ask-an-expert column, and other resources for grieving teens.

The Centering Corporation is a non-profit 501(c)(3) organization dedicated to providing education on grief and loss for professionals and the families they serve. Centering Corporation offers a compilation of over 500 resources for grief and loss including Grief Digest magazine.

The National Foundation for Grieving Children, Teens and Families, A Little Hope's mission is to help provide grief counseling and bereavement support services to children and teens who have experienced the loss of a parent or a loved one, regardless of the circumstances of the death.

The simple fact that bereaved youth are not alone is one of the most important messages that a grieving child can receive. Through the Shared Grief Project, this message is communicated through the personal testaments of high-profile figures who can offer a sense of empathy, solidarity, and hope during a difficult time to grieving children and their families.

Family Lives On is a program that provides free direct services through the "Tradition Program", helping children continue traditions they used to celebrate with their deceased mother or father. Family Lives On provides all they need - amusement park tickets, baking ingredients, etc. for a surviving caregiver to experience the tradition with the child. It promotes intra-family connection and communication, provides ongoing support and helps maintain an emotional bond with their deceased parent.