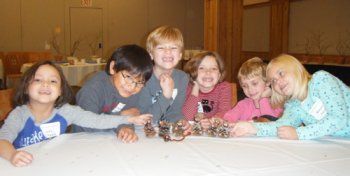 Someone you love has died.  This is a very sad and hard time for you.  These big feelings you have inside are called grief.  Letting out your grief is called mourning.  You need to mourn so you can start to feel better.  If you don't mourn, your feelings will stay all bottled up inside.  Here are some ways to help you let out all those big feelings:
Talk to a grown-up you trust.

These people may be a parent, teacher, school counselor, family friend, grandparent, aunt, uncle, coach.

Ask lots of questions.

There are lots of confusing things about death. Don't be afraid to ask questions even if adults don't have answers for them.

Share your memories

about the person who died. It feels good to talk about the good times you had together and remember.

Cry.

Crying is not just for babies. Crying helps your body let out its sadness.

Play.

It's good to play and sometimes playing out what is happening in our lives helps us understand them better.

Let yourself feel happy

It's OK to do things you enjoy and take a break from your sadness. Being silly and having fun does not mean you don't still miss your loved one.

Do some art.

Draw a picture, make a memory book filled with all your special memories of the person you love. Some times it helps to draw out those feeling that feel too big to keep inside.

Talk to other kids who are grieving.

Come to Mourning Hope where we have groups of kids your age who share their experiences and feelings. Together you can help each other and get new ideas of how to feel better.

Read books.

Many books are available that can help you deal with what is happening in your life. Ask your parents to check out books from the Mourning Hope lending library.
More ideas like this are found in Alan Wolfelt's book titled:  Healing Your Grieving Heart For Kids. This and other resources for teens are available in our lending library.  Call us at 488-8989 if you would like to check it out!
Additional Resources
Comfort Zone Camp is a nonprofit 501(c)3 bereavement camp that transforms the lives of children who have experienced the death of a parent, sibling, or primary caregiver. The free camps include confidence building programs and age-based support groups that break the emotional isolation grief often brings. Comfort Zone Camps are offered to children 7-17, and are held year-round in California, Massachusetts, New Jersey, and Virginia.