2019: Celebrating 25 Years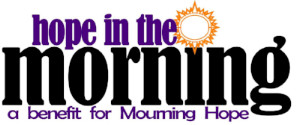 Thursday, May 2, 2019
7:30 a.m. to 9 a.m.
Country Club of Lincoln
Mourning Hope exists because every child deserves the opportunity to grieve in a supportive and understanding environment. Because the death of a family member brings financial instability, along with other life-altering changes, our services are available at no cost to participants, and no family is ever turned away. Receiving no government funding or insurance reimbursement, we rely solely on private donations from individuals, businesses, service clubs and foundations.
To continue offering this kind of help for grieving youth in Lincoln and surrounding communities, we need your support. On May 2, 2019, Mourning Hope will host our annual "Hope in the Morning" fundraiser with special guest speaker, Vicki Jay. This invitation-only event brings together business and philanthropic leaders, elected officials, corporate partners, community members and grief professionals for an educational and motivational breakfast.
2019 Partners
Platinum
Swanson Russell
Gold
AseraCare Hospice
Dave & Terry Hansen
HoriSun Hospice
Pinnacle Bank
Union Bank & Trust
Silver
Ameritas
Grafton & Associates
Hampton Enterprises
Frank & Elizabeth Hilsabeck
Lincoln Orthopedic Physical Therapy
Nebraska Hematology Oncology
Nebraska Wesleyan University
Olsson
Roper & Sons
The Barnes Group
US Bank
Printing Sponsor
Eagle Printing & Sign
Other Partners
Abel Foundation
Capitol Heating and Air
Courtyard by Marriott
Bob & Jan Fitzsimmons
Ron & Chris Harris
Nelnet
State Farm - Paul Johnson Insurance Agency
Stonebridge Wealth Management
The Copper Kettle
The Landing at Williamsburg Village
UNICO Group
2019 Guest Speaker: Vicki Jay
Vicki Jay serves as chief executive officer of the National Alliance for Grieving Children. Ms. Jay was founding director of Rays of Hope Children's Grief Center in Midland, Texas. Her nineteen-year hospice career included End-of-Life Community Education Director and ten years as Founder and Executive Director of Rays of Hope Children's Grief Center. She is recognized for her role in children's advocacy and for her strengths in public speaking and community education. Jay has received many awards and much recognition for her work with nonprofits and in the field of bereavement, including the National Jefferson Award for Community Service, a prestigious national recognition honoring community and public volunteerism in America. Recipients are "ordinary people who do extraordinary things without expectation of recognition." A graduate of Texas Tech University, Jay currently resides in Midland, Texas.