We wish to express our appreciation to the following organizations for their generous contributions. These gifts allow Mourning Hope to continue providing grief support services to children, teens, young adults and their caregivers throughout southeast Nebraska.
Foundations and Endowments
Abel Foundation
AseraCare Hospice Foundation
Building Strong Families Fund
Community Health Endowment of Lincoln
Cooper Foundation
HoriSun Hospice Community Foundation
Jewish Federation of Omaha Foundation
Lincoln Community Foundation
May L. Flanagan Foundation
New York Life Foundation
Pegler Family Foundation
Peter Kiewit Foundation
Rogers Foundation
The Grainger Foundation
The Moyer Foundation
Woods Charitable Fund
Click on the logo to learn more about The United Way of Lincoln and Lancaster County.
2012 Partners in Hope - Family Service

The Mourning Hope Board is proud to annually thank an organization that has made a significant impact on Mourning Hope. We call this award, "Partners in Hope." The 2012 "Partners in Hope" award went to another nonprofit in Lincoln - Family Service. Family Service is dedicated to growing stronger families in the community. They provide more than 5,000,000 meals each year through a USDA food program in 84 Nebraska counties. This program feeds almost 24,000 children in licensed home child-care facilities. Family Service delivers the Women, Infant and Children program to 3,000 people in Lancaster County each month and care for more than 1,800 children who take part in their child care and early childhood programs based in 23 Lincoln Public Schools. 
What many people are likely not aware of, is how many times Barry Gourley -- Family Service's Executive Director -- and other staff members have assisted Mourning Hope in our development. Mourning Hope has grown significantly in the last few years, but with our limited personnel resources, we've needed assistance with financial questions, policies and procedures, hiring processes, strategic planning, and HR-related issues. One call to Family Service has led us immediately to the answer. The willingness of Family Service to mentor our smaller nonprofit is appreciated immeasurably.
So it is with great pleasure that Mourning Hope announced Family Service as our 2012 "Partners in Hope" award winner.
2012 Spirit of Hope Award
This year, Mourning Hope elected to give one additional award which we termed the "Spirit of Hope" award. Unlike the "Partners in Hope" award, this award is designed for individuals who uniquely give above and beyond to bereaved youth in the community. For our first annual "Spirit of Hope" award, Mourning Hope decided to bestow the award to two individuals: Liz Shea-McCoy and Bob Reeker. Both Liz and Bob are local artists who work wonderfully with youth, and give willingly of their time and resources on a regular basis.
One of Mourning Hope's annual programs - "Art From Our Heart" partners local artists with children who have experienced the serious illness or death of someone significant in their lives. Liz and Bob have consistently served as our artists for this program as well as helping the Center with many other art-related programs. 
For bereaved children, we know that sometimes words are too difficult, but they can often express their feelings through other mediums, such as art. By working in tandem with professional local artists and trained grief facilitators, children gain valuable insight and understanding regarding their personal grief journey. And this is only made possible by the generosity of individuals like Liz and Bob.
2011 Partners in Hope - Nebraska Wesleyan University
The 2011 "Partners in Hope" award goes to Nebraska Wesleyan University in recognition of the amazing hospitality and support they have provided to Mourning Hope over the last few years. 
In 2007, Mourning Hope moved into a home just off Nebraska Wesleyan's campus and the University has served as a wonderful landlord since our lease began over four years ago. Prior to 2007, Mourning Hope was operated out of various venues that were not sufficient for the organization's growing needs. Mourning Hope was in desperate need of a permanent location where grieving children and their families could feel at home - Nebraska Wesleyan's generosity made this long-term dream a reality. 
In addition to providing us with a warm and welcoming place to call "home," Nebraska Wesleyan has also provided Mourning Hope with a number of work study students, volunteers and practicum students who have all enhanced the services that our organization provides. Currently, we have two work study students, Brittany Gunther and Sierra Summers, and Mourning Hope would not be the organization it is today without their support.
The partnership between Mourning Hope and Nebraska Wesleyan University has developed over the years and now includes cooperative marketing, fundraising, sponsorship of various programs and even wonderful work like Lisa's in helping us make the bowls for our annual fundraiser. So it is with great pleasure that we announce Nebraska Wesleyan University as our 2011 Partners in Hope award winner.
2010 Partners in Hope Award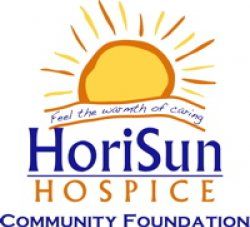 The Mourning Hope Board is proud to annually thank an organization or business that has made a significant impact on Mourning Hope. We affectionately call this award: "Partners in Hope." Although we owe our gratitude to so many people in our community, this year we wanted to publicly recognize HoriSun Hospice as our award recipient.
HoriSun Hospice consists of a team of committed and specially trained healthcare professionals providing expertise on living life to the fullest with dignity and comfort. The HoriSun Hospice team collaborates and implements a plan that provides the optimum in end of life services. Throughout the last several years, HoriSun has partnered with Mourning Hope to bring in a national speaker on grief-related issues, most recently bringing Harold Ivan Smith to Lincoln. And while the financial investment they have made in the Center has been amazing, the dedication of the staff at HoriSun has been equally astounding and we thank them for the wonderful partnership that has been built over the years. It is with great pleasure that Mourning Hope announces HoriSun Hospice as our 2010 Partners in Hope award winner.
2009 Partners in Hope
In February 2009, Mourning Hope's first "Partners in Hope" award was presented to Swanson Russell, a local advertising and public relations firm, which has donated tens of thousands of dollars in services during the past two years. Since 2007, when they first started working with us, the agency has invested over 500 hours in various projects, meetings, and marketing-related activities. At an average billable rate of $100 per hour, this results in over $50,000 of donated resources. 
While this financial contribution has been amazing, Swanson Russell transcends mere monetary contributions. Their endless dedication and hard work to support Mourning Hope's vision makes us forever indebted. Thank you to Dave Hansen and the entire Swanson Russell team. Receiving this type of work from a national agency that offers knowledge and expertise from nearly 50 years in the business is a true blessing for Mourning Hope.
Truckloads of Help Program
Through Truckloads of Help, a program  provided by the Center for People in Need,  225 human services agencies across the state receive countless resources for their low-income clients. On average the Center spends $220,000 a year to purchase $22 million dollars worth of merchandise that is distributed at no charge to the agencies and their clients. Mourning Hope is one of the human services agencies that greatly benefits from the Truckloads of Help program on a monthly basis.