Executive Director
Carly Woythaler-Runestad, MHA
Carly Woythaler-Runestad, MHA, is the executive director of the Mourning Hope Grief Center. Runestad began work at Mourning Hope on April 1, 2008. An Iowa native, she graduated with a B.M. in music therapy from the University of Iowa. Following graduation, Runestad served as the recreation therapy director of a 165-bed long-term care facility in Minneapolis, and as the director of a 26-bed Alzheimer's unit in Cedar Rapids, Iowa.

In 2004, Carly returned to Iowa City to pursue a Master's in Health Administration degree. Upon graduation, she worked for the Nebraska Hospital Association as the director of health policy, providing advocacy services at the local, state and federal level for 85 Nebraska hospitals.

Runestad has served on a number of statewide boards, including as the President of the Nebraska Rural Health Association and the Area Health Education Statewide Advisory Board and currently serves on the National Alliance for Grieving Children's Board of Directors. She is a frequent speaker on issues such as health policy, community health, human resource management and leadership. Carly is thrilled to serve as Mourning Hope's executive director, and is committed to promoting healthy communities through innovative programs and partnerships.
Program Director
Caitlin Mason, MTS
Caitlin Mason, MTS, is the Program Director of the Mourning Hope Grief Center.  Caitlin graduated in 2007 from Saint Norbert College in DePere, Wisconsin with B.A. in Religious and Cultural Studies.  In 2010, Mason graduated with a Masters of Theological Studies from Vanderbilt Divinity School in Nashville, TN. 
Caitlin is passionately committed to Mourning Hope's dedication to companioning grieving children and their families.  Most recently, Caitlin worked in eldercare as a Bereavement Coordinator for a local hospice organization and is excited to come alongside folks from the other end of life's spectrum to encourage them in their grief journey.   Her work in bereavement care has led Caitlin to realize that all people have a story to share, and need a safe place to share it!  She believes that she can contribute to Mourning Hope being a beacon of light in the Lincoln community, bringing attention to grief awareness and combatting the cultural stigma that you have to grieve alone.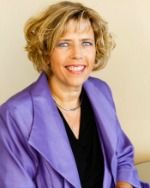 Camp Erin Program Director
Pam Fuhr Dinneen, MS, LMHP, FT
Pam Fuhr Dinneen is the founder of the Mourning Hope Grief Center. As an educator and counselor, she found herself working with children and seeing the devastating impact grief had on so many aspects of their lives, affecting their learning, behaviors and choices. After serving on the crisis response team for Lincoln Public Schools and becoming acutely aware of the need for support services for grieving children, teens and their families, she traveled to centers across the United States, learning about ways to support them.
In 1994, the first Mourning Hope teen group began with a concurrent group provided for their caregivers. After attending those sessions, families requested groups for their children and later their college age young adults. Throughout these years of providing services to grieving families in Nebraska, the program has continued to expand, adding more opportunities to address the needs of those grieving.
Pam's passion is to companion people, walking with them through the most difficult times in their lives and helping them have hope, healing and happiness again. She continues to be very active with Mourning Hope as a member of the Board of Directors and Executive Board. Pam is also on the Program Committee, Training Team and serves as a consultant for Mourning Hope's mission.
Pam is currently the Director of Care for Southwood Lutheran Church, where she offers counseling and adult groups. She is a Licensed Mental Health Practitioner and holds a Fellowship in Thanatology through the Association of Death Educators and Counselors.
Community Outreach Coordinator
Sandi Fabry
Sandi Fabry is the Community Outreach Coordinator for the Mourning Hope Grief Center. Before being hired for this new position, she served on the Mourning Hope Board of Directors. Sandi graduated with a Bachelor of Arts from Hastings College and moved to Lincoln in 1964 to become part of Lincoln Public Schools. After graduate work at UNL and teaching both elementary and middle school, Sandi retired from the classroom but was rehired to work with the Ventures in Partnerships and TeamMates programs.

Sandi is convinced that Lincoln is clearly one of the best places in the nation to live and work. Community service, with particular attention to children's issues, is a passion. Sandi serves on the Children, Youth and Families Board at First-Plymouth and on the Board of Directors for Downtown Rotary Club #14.

All children across the city and their families are welcome at Mourning Hope following the death of a friend, a family member or someone important to them. For the Mourning Hope staff and volunteers, serving those who most need a companion at a very difficult time in their lives is truly an honor.
Community Program Coordinator
Rachael Kluck Spann M.A.
Rachael Kluck Spann was hired by Mourning Hope in 2012 as the Community Program Coordinator. In this position, Mourning Hope has extended its grief services to underserved youth within the Lincoln Community by partnering with Lincoln Public Schools and other local community agencies. Rachael has also served as a Mourning Hope Grief facilitator since 2010, primarily working with the Young Adult Group that meets bi-monthly. 

Originally from Richland, Nebraska, Rachael received her undergraduate degree from Montana State University in elementary education. She then taught for three years at a residential treatment center for youth located in Boston, MA and spent one year teaching 8th grade social studies in New Orleans Public Schools, before returning to Nebraska to complete her Master's degree in School/Community counseling. Rachael has been a school counselor within Lincoln Public Schools for 6 years and serves on many other district committees as well. Rachael is currently in the process of earning an additional Master's degree in Educational Leadership as well. 

Rachael is thrilled to have the opportunity to provide additional support services to youth and their families by working for Mourning Hope. It is a tremendous honor to work with the Mourning Hope team, who provides hope, strength and support to families in our community. 
Program Resource Coordinator
Lauren Eynon Patton
Lauren Eynon Patton, is the Program Resource Coordinator of the Mourning Hope Grief Center. Originally from Austin, Texas, Lauren graduated in 2006 from Baylor University with a B.A. in Political Science. Lauren is also a first year Marriage and Family Therapy graduate student at UNL.
Lauren began at Mourning Hope as an enthusiastic volunteer and jumped at the chance to make her passion for grief work official by accepting the role of Program Resource Coordinator. Now she gets to work with other enthusiastic volunteers every day! Prior to Mourning Hope, Lauren worked as a corporate digital marketer before finally taking the leap to pursue her dream of working with grieving families. Lauren is passionately committed to providing grief care to everyone who wants or needs it and is thrilled to be a part of Mourning Hope as it grows and continues to meet needs in the community.
Work Study Student
Kaycee Greenfield
Kaycee Greenfield is a work study student for Mourning Hope.  She studies at Nebraska Wesleyan University. Kaycee is a junior majoring in Social Work and minoring in Political Science.  Kaycee has been working for Mourning Hope since Spring of 2014. 
Work Study Student
Mikayla Tremain
Mikayla Tremain is a work study student for Mourning Hope.  She studies at Nebraska Wesleyan University. Mikayla is a junior majoring in Social Work and minoring in Peace and Justice Studies and Family Studies.  Mikayla has been working at Mourning Hope since the Spring of 2015.