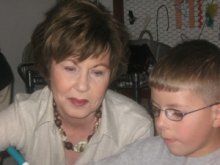 "I don't think we can possibly measure the impact Mourning Hope has on the community. We only know that thousands of children and young adults have been given the opportunity to mourn the loss of a loved one, not alone, but with peers who have also experienced a loss. They have done the difficult work of mourning, companioned by highly trained and caring facilitators. They have learned that there is hope and hope is the medicine for despair"
- Lindy Mullin, Mourning Hope Past President 
"I wish every night were Tuesday night." 
- Adult participant commenting on the Tuesday evening, 10-week Family Grief Series 
"Providing a safe, caring environment for families to join together and begin healing after a significant loss became my passion over 15 years ago. With the help of many others, who gave so freely from their hearts, Mourning Hope is a place where all feelings are accepted and all people are respected for who they are and where they are in their grief journey.
"Children are often the 'forgotten mourners' as families go through the grieving process. Providing a safe place for them to begin the healing process as they explore and express their feelings and experiences is what Mourning Hope offers families. Being able to walk with someone through some of the darkest and most difficult times in their lives is such a gift. They trust us with their feelings and honor us with their stories and in turn we support them in their healing. Ultimately we give hope for a brighter tomorrow." 
- Pam Dinneen, Mourning Hope Founder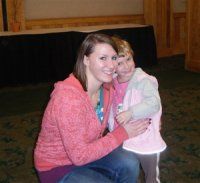 "When I lost my aunt and two young cousins in a car accident I felt like I had nowhere to turn. Then I came to college in Lincoln and found Mourning Hope. I really felt like my group was meant for me. The program turned my life around and gave me a sense of direction that I so badly needed."
- Brittany Gunther, Nebraska Wesleyan University Student 
"It helps get the greif [sic] out."
- 7-year-old participant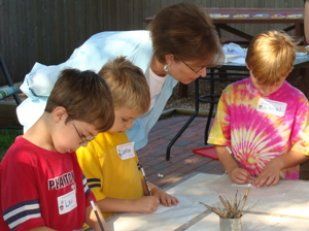 "Over the years I have observed that Mourning Hope provides a place where children can grieve and 'be' a child at the same time. They are surrounded by peers who are also grieving; these peers have an understanding like no one else, so they can be honest and open with their thoughts and feelings. At the same time the children have an opportunity to laugh and be silly without worrying that others will be upset or hurt by their words or actions. They discover that it is okay to 'take a break' from grieving. At Mourning Hope, I have observed children as they cry, laugh, are quiet, are incredibly chatty, become angry, let loose of some tension, get silly, tell the honest to goodness truth, share their fears, become light-hearted (if only for a short time) and support others in the group."
- Gayla Nelsen, Elementary Age Grief Facilitator
"I just want to thank you for everything. This really was a life-changing experience that taught me a lot. Before this, I really did not want to deal with my dad's death, but now have come to terms with it. Now I can move on but still never forget my dad. You guys taught me how to have grief and still do everything. Before everything kind of just went and I was along for the ride. I learned so much for everyone there, and I just want to thank you all again. I am so glad I got to meet you all. I will never forget you." 
- Catelyn Petersen, Teen 10-week Grief Series Participant 
"I wanted to thank you for all of your support these last couple of years. There is no way I would be to where I am in this process without every wonderful member of Mourning Hope. You have all touched me in a way that you would never imagine. No matter how hard it is for me, I always know that there are such nice people there to support me through my struggles. Thank you so much for your continued support." 
- Vicki Ortmeier, Adult 10-week Grief Series Participant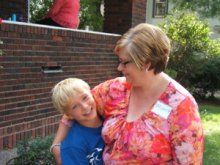 "I will never forget the feeling of helplessness watching my best friend and her son grieve over the sudden death of husband and dad. There was nothing I could say or do to guide them through the dark clouds.
"When Michelle told me about a group she was attending I thought it was more for Tanner her son. He made a teddy bear tee-shirt pillow from his dad's Cubbies shirt and sleeps with it still every night. I saw him adjusting and wished I would have had a place like that to go when I lost my mother at a young age. I can't help but believe that Tanner will be more secure with himself armed with all the care, knowledge and support from Mourning Hope than others who don't have this opportunity.
"As for Michelle, all I can say is wow! Mourning Hope gave her a connectedness to others who were in a similar situation. She has made new and close friends bonding over a unique experience in their lives. They help each other and as they bond they have more strength to help welcome anyone new to the group needing them. It has become almost an extended family for them.
"The value of having a house just for the members is invaluable to the healing. This is a sacred place where there is safety, love and a welcome home feeling to those in need. Michelle and Tanner have two places to call home. Through this group they have healed faster than I would have imagined. In fact they have been so strong they have reached out to heal others within the the family through what they have learned. Mourning Hope gave them a new sense of belonging to each other and to a greater cause to help others."
- Bev Conroy, Friend of Mourning Hope Participant