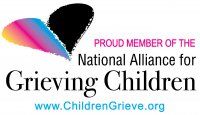 The National Alliance for Grieving Children provides a network for nationwide communication between hundreds of children's bereavement centers who want to share ideas, information and resources with each other to better support the families they serve in their own communities.

The Center for Loss is dedicated to "companioning" grieving people as they mourn transitions and losses that transform their lives. We help mourners by walking with them in their unique life journeys. We also help professional caregivers and lay people by serving as an educational resource and professional forum.

The Centering Corporation is a non-profit 501(C)3 organization dedicated to providing education on grief and loss for professionals and the families they serve. Centering Corporation was founded in 1977 by Joy and Dr. Marvin Johnson. When Joy and Marv started 31 years ago they developed nine little coloring books for hospitalized children and two workshop offerings for nurses and families. Over time, this evolved into what is now called Patient Education. Centering Corporation has done remarkably well in the industry, with now a compilation of over 500 resources for grief and loss including our own magazine Grief Digest. We continue to provide educational offerings, bookstores, and workshops for caregivers and families, with a heritage of becoming the largest provider of resources for Grief and Loss in the nation.

The Dougy Center provides support in a safe place where children, teens, young adults, and their families grieving a death can share their experiences

The Dougy Center was the first center in the United States to provide peer support groups for grieving children. We'd like to share with you what we have learned from over 20,000 children, teens and families we've served since 1982.

The Dougy Center also provides support and training locally, nationally and internationally to individuals and organizations seeking to assist children in grief.

Welcome to our childhood bereavement resource area, brought to educators and families by the New York Life Foundation. Learn how to best help children who might otherwise feel alone and lost as they navigate though their grief.

The National Foundation for Grieving Children, Teens and Families, A Little Hope's mission is to help provide grief counseling and bereavement support services to children and teens who have experienced the loss of a parent or a loved one, regardless of the circumstances of the death.

Death and grief will affect the lives of almost all children at some point, often leading to struggles with academic performance, social relationships, and behavior. The death of a loved one is immensely challenging for anyone, but children and teens can find it particularly difficult.

Scholastic.com, through the generosity of the New York Life Foundation, hosted a live, interactive webcast on the subject of Children and Grief. Using actual scenarios from children and parents, childhood grief expert, pediatrician, and author Dr. David Schonfeld, MD, and Chris Park, president of the New York Life Foundation, talked about misconceptions, and imparted valuable advice on how educators and all other caring adults can best support grieving children--whether it's right after the loss or years later.