Mourning Hope "In the News"
Finding Hope Among Loss
Mourning Hope Recognized by Project Impact Lincoln
Mourning Hope Offers Support During the Holiday Season
Finding Hope- Our Book
Mourning Hope Celebrates 20 Years
Announcing Camp Erin Lincoln
Mourning Hope Celebrates 20th Anniversary
Mourning Hope 2013 Volunteers of the Year Award
Mourning Hope gets $25,000 grant from New York Life
Mourning Hope Grief Center supports grieving families during holiday season
Nebraska Governor's Point of Lights Award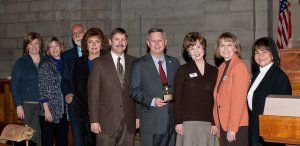 Governor Dave Heineman presented the Nebraska Governor's Points of Light Awards at a ceremony in Warner Chamber at the State Capitol in Lincoln on February 16 at 10:30 a.m.. The awards are presented quarterly in recognition of volunteers who give their time, talent and energy to help Nebraskans build stronger communities. 
Since 1994, Mourning Hope volunteers have been gently guiding bereaved youth toward the right path. All involved with Mourning Hope operate with a crystal clear, singular purpose -- to bring comfort and support to children, teens, young adults and their families following the serious illness or death of a loved one. During the initial 11 years, Mourning Hope operated as an exclusively volunteer-ran organization. Currently, the Center functions with only two half-time staff and has served nearly 2,400 community members this past fiscal year. This program would not exist without its cadre of dedicated and trained volunteers which is why they are most deserving of the Governor's Point of Light Award
The Points of Light Award honors those who have made a commitment to connect Americans through service to help meet critical needs in their communities. This award was established by Governor Mike Johanns in May 2002 to recognize the innovative and effective voluntary efforts that take place in Nebraska everyday.
Nebraska Children's Grief Awareness Week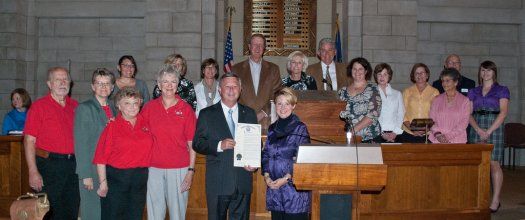 September 21 -- 27, 2009
The last week of September marks Mourning Hope Grief Center's 15th year of offering hope and healing to grieving youth in our community.
Anyone old enough to love, is also old enough to grieve. How adults respond following the death of someone significant in their lives has a major effect on the way youth react to death. If handled with warmth, acceptance and understanding, caring adults can help youth experience a valuable part of their personal growth and development.
- You are a role model for your children, even as they grieve. Openly share your emotions so your children can learn healthy expression skills.
- Death is a natural part of life. Allow children to be included in the family rituals and take an active role if they would like.
- Share information with children at a level they can understand. Use simple, concrete, but direct language and allow children plenty of opportunities to ask questions.
- Grief comes in waves -- some may be gentle and others very strong. There may be times when children seem like nothing has happened and other times when they are overcome by emotion. Be there for them - comforting, listening, hugging, and showing them you care.
4919 Baldwin Avenue
402.488.8989
info@mourninghope.org 
www.mourninghope.org