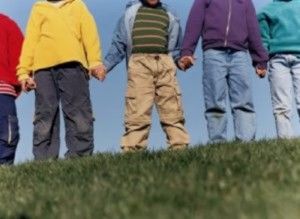 Mourning Hope recognizes that transportation and family schedules often prohibit bereaved youth from attending a grief support group at our Center. In order to increase Mourning Hope's reach to grieving students in the Lincoln community, Mourning Hope partners with Lincoln Public Schools to offer school-based grief support groups for bereaved students. An eight week, peer support group model was launched several years ago out of the need to reach grieving children and teens where they spend the majority of their time--in their schools.
Children's school bereavement groups offer a safe, natural environment for children to support one another. These groups help prevent negative consequences related to unresolved childhood grief such as difficulty with classroom concentration, behavioral problems, social isolation and withdrawal, depression, truancy, substance abuse and even suicide. One of the greatest program benefits is for youth recognizing they are not alone in their grief.
These school-based services occur weekly during school hours and are co-facilitated by a Lincoln Public School Employee and a Mourning Hope Trained Facilitator. Groups are designed to support grieving youth of various ages. All materials are supplied by Mourning Hope and there is no cost for the school or the youth to participate in any of these programs.
School personnel interested in holding a program at their school should contact Rachael Kluck Spann at rkluckspann@mourninghope.org or call 402.488.8989. Required forms are located immediately below. Please note that only a limited number of groups are provided each semester and are implemented on a first-come, first-served basis.
Coalition to Support Grieving Students
The Coalition to Support Grieving Students is a unique collaboration of the leading professional organizations representing classroom educators, principals, assistant principals, superintendents, school board members, and central office staff, student support personnel (including school counselors, school nurses, school psychologists, school social workers, and other student support personnel), and other school professionals who have come together with a common conviction: grieving students need the support and care of the school community. The Coalition's purpose is to create and share a set of industry-endorsed resources that will empower school communities across America in the ongoing support of their grieving students.
To learn more about the coalition or to view and download specific modules for school personnel, vist the following site: http://grievingstudents.scholastic.com/.