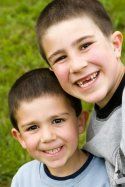 No family is ever turned away because of their inability to pay for grief services. It is the financial support of foundations, corporations, organizations, and individuals that allows Mourning Hope to fulfill its mission. Financial gifts, gifts of needed items, and gifts of time and talents are all important for helping grieving families.
Memorials to Mourning Hope are a nice way to honor someone's life and at the same time offer support to others who are grieving. To donate online, simply click on the link above. If you prefer to mail a financial gift, please send a check payable to "Mourning Hope Grief Center" at 4919 Baldwin Avenue, Lincoln, NE 68504.
Many people choose to make a gift in honor or memory of a special person, or to recognize a special event, or significant day such as a birthday or anniversary. If you would like to do this, please indicate this request with the gift. If you would like someone notified of your gift in honor, memory, or celebration, please include the name and address (or email address) of the person to be notified.