No Child Should Grieve Alone
Welcome to Mourning Hope
Mourning Hope is a grief support network for children, teens, young adults and their families who have experienced the serious illness or death of someone special to them. Support groups serve youth in kindergarten through young adults and their families. Mourning Hope is here to help when grieving the death of anyone significant in a child's life -- a parent, grandparent, sibling, aunt or uncle, or close friend. 
Mourning Hope was founded in 1994 and is dedicated to providing emotional support for grieving youth and helping caregivers and the entire community understand the unique needs of grieving youth and families. Mourning Hope is funded by the generosity of our community and does not require payment for any services.
Mourning Hope's name is significant - it's through mourning that we find hope to live, laugh and find joy in life again. Grieving is the hardest work there is.
---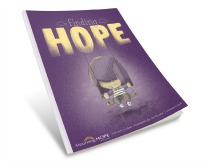 ---
Memorials to Mourning Hope are a nice way to honor someone's life and at the same time offer support to others who are grieving.
Camp Erin 2017
Camp Erin 2017 applications are now open. Click Here to be directed to our main Camp Erin page to apply.
Camp Erin is a three-day, overnight bereavement camp for children and teens ages 6 through 17 who have experienced the death of someone significant in their life, such as a parent, sibling, family member or friend. The next Camp Erin Lincoln is scheduled for September 22 – 24, 2017 at Carol Joy Holling. Click the image below to learn more.
Upcoming Programs and Events
10 Week Grief Support Group
Register now for our next 10-week family grief support group.  This group is geared towards supporting any youth, ages kindergarten through 18 that has experienced a signficant death in their lives.  Caregivers are required to attend a separate group that runs congruently with youth groups, where adults receive education on how to support a grieving child, as well as grief support themselves.  Participants will take part in 10 weeks of small groups with peers dealing with signifiant death(s) in their lives.  The  support group helps youths process grief experiences through discussion, art, and dramatic play, in a peer group setting.  This group is offered at no cost to families, however, a commitment to participate in the full 10 weeks of group and pre-registration is required.  Groups meet on either  Monday nights from 6:30-8pm beginning January 30th- April 10th (Groups will meet Feb. 20th, President's Day, though LPS is out. NO groups over LPS Spring Break, March 13) or Tuesday nights from 6:30-8pm, March 21-May 23rd (Group WILL meet on LPS early dismissal days).
Young Adult Grief Support
Mourning Hope Grief Center offers the 4-week Young Adult grief support group to provide an opportunity for bereaved individuals ages 18-30 something, to meet with others struggling with the wide range of emotions experienced following the death of a loved one.
Young Adult Grief Support will meet Tuesdays in February from 6:30-8pm. Register now!