No Child Should Grieve Alone
Welcome to Mourning Hope
Mourning Hope is a grief support network for children, teens, young adults and their families who have experienced the serious illness or death of someone special to them. Support groups serve youth in kindergarten through young adults and their families. Mourning Hope is here to help when grieving the death of anyone significant in a child's life -- a parent, grandparent, sibling, aunt or uncle, or close friend. 
Mourning Hope was founded in 1994 and is dedicated to providing emotional support for grieving youth and helping caregivers and the entire community understand the unique needs of grieving youth and families. Mourning Hope is funded by the generosity of our community and does not require payment for any services.
Mourning Hope's name is significant - it's through mourning that we find hope to live, laugh and find joy in life again. Grieving is the hardest work there is.
---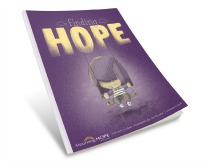 "If I could tell you one last thing..."
Throughout Mourning Hope's group sessions, activities often involve some level of artistic expression because children typically do not have the words or the developmental abilities to express their emotions. One project completed during Mourning Hope's weekend-long camp for grieving youth was a group graffiti board with the tag line: "If I could tell you one last thing..." Mourning Hope has now translated this activity into a Lincoln-based, community art project to bring awareness to the issue of childhood grief. Ten boards have been placed throughout the community with the tag line: "If I could tell you one last thing."
To connect with this project on social media, tell us #OneLastThing you would say to your loved one.
Click here to learn more about this project
---
Memorials to Mourning Hope are a nice way to honor someone's life and at the same time offer support to others who are grieving.
Upcoming Programs and Events
Camp Erin 2016
Camp Erin is a three-day, overnight bereavement camp for children and teens ages 6 through 17 who have experienced the death of someone significant in their life, such as a parent, sibling, family member or friend. The next Camp Erin Lincoln is scheduled for September 23 – 25, 2016 at Carol Joy Holling. Click the image below to learn more.

Summer Programming
"Bits of Hope" 
A four-week grief support group for youth ages 5-18 and their caregivers.  Youth meet is peer support groups separately form their caregivers.  This support group is a great way to get to know Mourning Hope and what our program offers!  The program is at no cost to you, but you must register in advance online.
Meets the first four Wednesdays in June, 6:30-8pm. 
"Art From Our Heart" 
One-day events that offer support to youth who have experienced the serious illness or death of someone significant in their lives. Mourning Hope partners with skilled artists to provide children and teens a healthy, creative outlet for expressing intense feelings.  Caregivers have the option of attending "Caregiver Connection," a group that supports grieving caregivers, as well as gives ideas about how to support a grieving child.  This group runs congruently with the youth program, "Art From Our Heart."
Saturday, June 18 or Saturday, July 16, 9am-1pm.
Become a volunteer at Mourning Hope!
Our next grief-facilitator training will take place July 8 from 5-9pm, and July 9 from 9-4.  The training will equip you to become a facilitator for grief support groups at Mourning Hope and uses the Grief Companioning philosophy of Alan Wolfelt.  Both days are necessary to complete the training.  If you are interested in becoming a facilitator, contact Lauren Patton, Program Resource Coordinator at lpatton@mourninghope.org.