No Child Should Grieve Alone
Welcome to Mourning Hope
Mourning Hope is a grief support network for children, teens, young adults and their families who have experienced the serious illness or death of someone special to them. Support groups serve youth in kindergarten through young adults and their families. Mourning Hope is here to help when grieving the death of anyone significant in a child's life -- a parent, grandparent, sibling, aunt or uncle, or close friend. 
Mourning Hope was founded in 1994 and is dedicated to providing emotional support for grieving youth and helping caregivers and the entire community understand the unique needs of grieving youth and families. Mourning Hope is funded by the generosity of our community and does not require payment for any services.
Mourning Hope's name is significant - it's through mourning that we find hope to live, laugh and find joy in life again. Grieving is the hardest work there is.
Memorials to Mourning Hope are a nice way to honor someone's life and at the same time offer support to others who are grieving.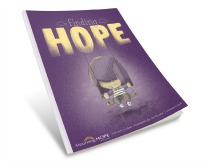 Upcoming Programs and Events
10 Week Family Grief Support Group
Register now for our next 10 week family grief support group which meets Monday nights beginning January 25th!
Young Adult Group
Mourning Hope's Young Adult Group will beginning the 4-week session starting Thursday night November 16 from 7-8:30pm at Mourning Hope.
Click Here to register for the Young Adult Group
Holiday Hope/Art From Our Heart
Children and teens will be joined by professional local artists to create memory items honoring their loved one during the Holiday season on Saturday December 5 from 9am-1pm. 
Click Here to register for Holiday Hope/Art From Our Heart
Tree Lighting Ceremony/Open House
Make an ornament in honor of your loved one and take the opportunity to see our family quilt, while enjoying cookies and cocoa.  This open house and tree lighting ceremony will take place at Mourning Hope on December 13 from 5:30pm-7:30pm. 
Click Here to register for the Tree Lighting Ceremony/Open House
Grief Facilitator Training Announced!
Mourning Hope will offer grief facilitator training Friday January 8 from 5:45pm-9pm and Saturday January 9 from 8:45am-9pm.  Contact lpatton@mourninghope.org for any questions or more information. 
Click here to register for the Grief Facilitator Training