No Child Should Grieve Alone
Welcome to Mourning Hope
Mourning Hope is a grief support network for children, teens, young adults and their families who have experienced the serious illness or death of someone special to them. Support groups serve youth in kindergarten through young adults and their families. Mourning Hope is here to help when grieving the death of anyone significant in a child's life -- a parent, grandparent, sibling, aunt or uncle, or close friend. 
Mourning Hope was founded in 1994 and is dedicated to providing emotional support for grieving youth and helping caregivers and the entire community understand the unique needs of grieving youth and families. Mourning Hope is funded by the generosity of our community and does not require payment for any services.
Mourning Hope's name is significant - it's through mourning that we find hope to live, laugh and find joy in life again. Grieving is the hardest work there is.
---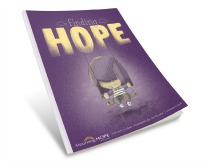 "If I could tell you one last thing..."
Throughout Mourning Hope's group sessions, activities often involve some level of artistic expression because children typically do not have the words or the developmental abilities to express their emotions. One project completed during Mourning Hope's weekend-long camp for grieving youth was a group graffiti board with the tag line: "If I could tell you one last thing..." Mourning Hope has now translated this activity into a Lincoln-based, community art project to bring awareness to the issue of childhood grief. Ten boards have been placed throughout the community with the tag line: "If I could tell you one last thing."
To connect with this project on social media, tell us #OneLastThing you would say to your loved one.
Click here to learn more about this project
---
Memorials to Mourning Hope are a nice way to honor someone's life and at the same time offer support to others who are grieving.
Upcoming Programs and Events
10 Week Grief Support Group
Register now for our next 10-week family grief support group.  This group is geared towards supporting any youth, ages kindergarten through 18 that has experienced a signficant death in their lives.  Caregivers are required to attend a separate group that runs congruently with youth groups, where adults receive education on how to support a grieving child, as well as grief support themselves.  Participants will take part in 10 weeks of small groups with peers dealing with signifiant death(s) in their lives.  The  support group helps youths process grief experiences through discussion, art, and dramatic play, in a peer group setting.  This group is offered at no cost to families, however, a commitment to participate in the full 10 weeks of group and pre-registration is required.  Groups meet on either  Monday nights from 6:30-8pm beginning September 12 running through November 21 (No group October 17, LPS fall break) or Tuesdays nights from 6:30-8pm, October 18-December 20th. 
Camp Erin 2016
*Please note that applicaitons for the 2016 camp season closed August 1, 2016.  Because Camp Erin Lincoln has maintained a waiting list for camp each year, we highly suggest you turn in your camp application immediately so your family will be added to the growing waitlist for the 2017 Camp Erin experience.  Thank you!
Camp Erin is a three-day, overnight bereavement camp for children and teens ages 6 through 17 who have experienced the death of someone significant in their life, such as a parent, sibling, family member or friend. The next Camp Erin Lincoln is scheduled for September 23 – 25, 2016 at Carol Joy Holling. Click the image below to learn more.