No Child Should Grieve Alone
Welcome to Mourning Hope
Mourning Hope is a grief support network for children, teens, young adults and their families who have experienced the serious illness or death of someone special to them. Support groups serve youth in kindergarten through young adults and their families. Mourning Hope is here to help when grieving the death of anyone significant in a child's life -- a parent, grandparent, sibling, aunt or uncle, or close friend. 
Mourning Hope was founded in 1994 and is dedicated to providing emotional support for grieving youth and helping caregivers and the entire community understand the unique needs of grieving youth and families. Mourning Hope is funded by the generosity of our community and does not require payment for any services.
Mourning Hope's name is significant - it's through mourning that we find hope to live, laugh and find joy in life again. Grieving is the hardest work there is.
---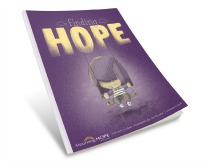 ---
Memorials to Mourning Hope are a nice way to honor someone's life and at the same time offer support to others who are grieving.
Camp Erin 2017
Camp Erin 2017 applications are now open. Click Here to be directed to our main Camp Erin page to apply.
Camp Erin is a three-day, overnight bereavement camp for children and teens ages 6 through 17 who have experienced the death of someone significant in their life, such as a parent, sibling, family member or friend. The next Camp Erin Lincoln is scheduled for September 22 – 24, 2017 at Carol Joy Holling. Click the image below to learn more.
Upcoming Programs and Events
Summer Programming at Mourning Hope
"Bits of Hope"--GROUP IS CLOSED AND AT CAPACITY
4 Week Family Grief Support Program
A four-week grief support program for children going into kindergarten through high school age and their caregivers who have experienced the death of someone significant.  Participants will explore their grief through art, play, and group discussion.  The group meets Wednesday nights, June 7, 14, 21, 28 from 6:30-8pm.  The program is free to participants, but you must register in advance via the link below.  Contact Caitlin Mason, Program Director, with questions at 402-488-8989 or email cmason@mourninghope.org
"Art From Our Heart"
June 17/July 15
One-Day Grief Support Program
"Art From Our Heart" is a one-day program that is offered twice over the summer.  Youth meet from 9am-1pm and have two different grief exploration sessions.  Each session is lead by a local artist or community member that offers their gifts and talents to help youth express their grief in alternative ways.
A caregiver support group meets during this time for caregivers looking for grief support, as well as education on how to best support a grieving child.  Caregivers must register if they wish to participate. 
Lunch is included.  The program and lunch are free, but families must register in advance.  Contact Caitlin Mason, Program Director, with questions at 402-488-8989 or email cmason@mourninghope.org