No Child Should Grieve Alone
Welcome to Mourning Hope
Mourning Hope is a grief support network for children, teens, young adults and their families who have experienced the serious illness or death of someone special to them. Support groups serve youth in kindergarten through young adults and their families. Mourning Hope is here to help when grieving the death of anyone significant in a child's life -- a parent, grandparent, sibling, aunt or uncle, or close friend. 
Mourning Hope was founded in 1994 and is dedicated to providing emotional support for grieving youth and helping caregivers and the entire community understand the unique needs of grieving youth and families. Mourning Hope is funded by the generosity of our community and does not require payment for any services.
Mourning Hope's name is significant - it's through mourning that we find hope to live, laugh and find joy in life again. Grieving is the hardest work there is.
Memorials to Mourning Hope are a nice way to honor someone's life and at the same time offer support to others who are grieving.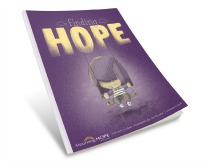 Upcoming Programs and Events
The Young Adult Grief Support Group (ages 19 - 30ish) is provided free-of-charge. The next group social will be Thursday March 19th from 6:30-8PM.
Four Week Young Adult Group Session runs from March 26-April 16, Thursdays from 6:30-8:00pm
Party with a Purpose! Java & Jewels, April 11 from 10am-1pm.  All proceeds from the even will benefit Mourning Hope Grief Center