No Child Should Grieve Alone
Welcome to Mourning Hope
Mourning Hope is a grief support network for children, teens, young adults and their families who have experienced the serious illness or death of someone special to them. Support groups serve youth in kindergarten through young adults and their families. Mourning Hope is here to help when grieving the death of anyone significant in a child's life -- a parent, grandparent, sibling, aunt or uncle, or close friend. 
Mourning Hope was founded in 1994 and is dedicated to providing emotional support for grieving youth and helping caregivers and the entire community understand the unique needs of grieving youth and families. Mourning Hope is funded by the generosity of our community and does not require payment for any services.
Mourning Hope's name is significant - it's through mourning that we find hope to live, laugh and find joy in life again. Grieving is the hardest work there is.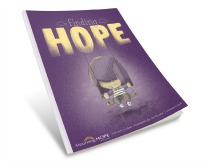 Memorials to Mourning Hope are a nice way to honor someone's life and at the same time offer support to others who are grieving.
Upcoming Programs and Events
10 Week Family Grief Support Group
Register now for our next 10 week family grief support group which meets Tuesday nights beginning March 15th!
Death and Grief Education
There is a free evening event supporting the grieving family on February 23, 2016 from 6:30-8:00pm at Bryan Medical Center (East Campus). This presentation will provide insight into how bereaved children and teens can come to understand and adjust to a loss.
On February 24, 2016 from 8:30am-3:45pm there is a day long workshop at the Jack J Huck Continuing Education Center. This event is supporting students and communities at times of crisis and loss.
Dr. David J. Schonfeld, who is speaking at both events, will draw on over 25 years of experience in pediatric bereavement and school crisis response to provide examples and answer questions from participants.
A flier with more information on both events can be downloaded here.