No Child Should Grieve Alone
Welcome to Mourning Hope
Mourning Hope is a grief support network for children, teens, young adults and their families who have experienced the serious illness or death of someone special to them. Support groups serve youth in kindergarten through young adults and their families. Mourning Hope is here to help when grieving the death of anyone significant in a child's life -- a parent, grandparent, sibling, aunt or uncle, or close friend. 
Mourning Hope was founded in 1994 and is dedicated to providing emotional support for grieving youth and helping caregivers and the entire community understand the unique needs of grieving youth and families. Mourning Hope is funded by the generosity of our community and does not require payment for any services.
Mourning Hope's name is significant - it's through mourning that we find hope to live, laugh and find joy in life again. Grieving is the hardest work there is.
---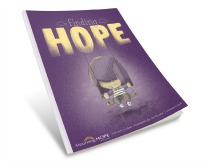 ---
Memorials to Mourning Hope are a nice way to honor someone's life and at the same time offer support to others who are grieving.
Survivor Day November 18, 2017
Join Mourning Hope and the American Federation for Suicide Prevention on November 18 as we gather to remember and honor those that have died by suicide.  The support program will take place from 9-noon and include a viewing of "The Journey of Healing and Hope," an AFSP produced documentary on those that have experienced a death of a significant person by suicide.  The day will also include a time to share your story, reflect, and remember. Limited space is available, you can register online http://afsp.org/survivor_day/lincoln-nebraska/
Upcoming Programs and Events
Fall Programming at Mourning Hope
10-Week Family Grief Support Group
A ten-week family grief support program for children going into kindergarten through high school age and their caregivers who have experienced the death of someone significant.  Participants will explore their grief through art, play, and group discussion.  Caregivers attend group to both receive grief support, as well as psycho-education regarding children's grief behaviors and how to respond.  The group meets Monday or Tuesday nights this fall.  Monday night group meets weekly, September 11-November 20, 6:30-8pm. The Tuesday night group meets weekly, October 3-December 19, 6:30-8pm.  The program is free to participants, but you must register in advance via the link below.  Contact Caitlin Mason, Program Director, with questions at 402-488-8989 or email cmason@mourninghope.org
Young Adult Group
4-week Young Adult group to begin...
Mourning Hope will offer a four-week grief support group open to individuals ages 18-30 something that are experiencing grief after a death.  
The will meet at "The Bay" beginning October 26 from 7-8:30 and runs for four weeks.  The group is free, but you must pre-register to participate.
Become a grief group facilitator!
Mourning Hope is looking for compassionate, dedicated people willing to become volunteer grief facilitators for our 10-week family grief support program!   Our next training is October 12, 13, 14!  Check out our flyer for details!