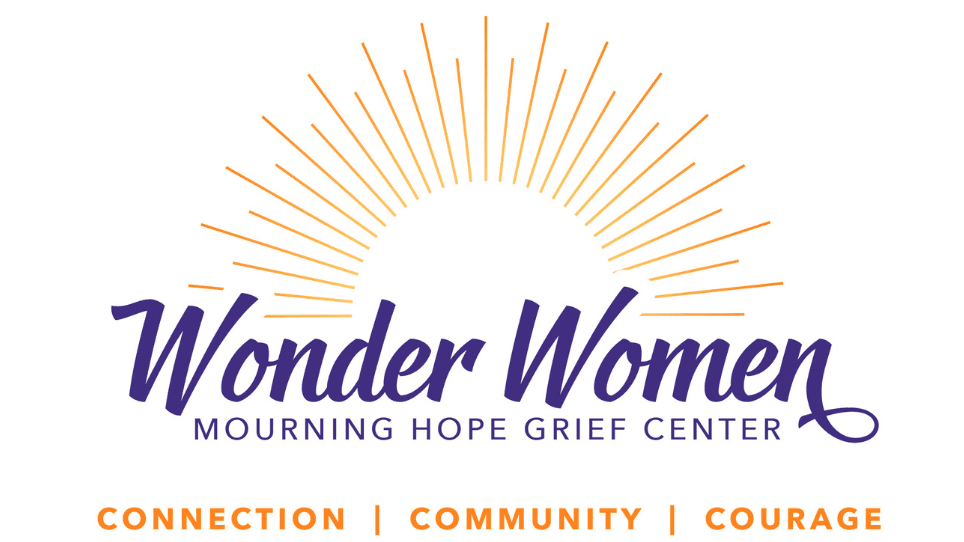 At the Mourning Hope Grief Center, we believe everyone has a superpower within.
In 2014, several Mourning Hope volunteers created a new event for the Center. This fundraiser was to have very little overhead whereby the majority of the proceeds would directly benefit the bereaved.
As Mourning Hope Wonder Women, individuals are asked to donate $100 on an annual basis. This group has provided Mourning Hope with significant operating funds dedicated to grieving children, adults and families served by the Center. Participants are not charged for grief support services at Mourning Hope and the Wonder Women donations ensure these programs and resources are available for everyone in our community.
As a thank you, participating Wonder Women are annually invited to join forces for a cocktail party, generously hosted by Mourning Hope volunteers, to celebrate friendships and a legacy of charitable giving.
---
2023 Wonder Women
Thank you to this year's Wonder Women!
| | | | |
| --- | --- | --- | --- |
| Mary Abel | Diane Dudley | Honey Lynn Larsen Self | Claudia Russell |
| Phyllis Acklie | Connie Duncan | Kylie Legree | Pat Ruth |
| Kathleen Allan | Samantha Eckhardt | Amy Lipins | Megan Ruwe |
| Amy Anderson | Barb Engdahl | Nicole Longoria | Cindy Ryman Yost |
| Carly Anderson | Marcy Etzelmiller | Mary Lutkemeier | Stacey Sadowski |
| Pam Anderson | Jennifer Eurek | Diane Lydick | Marcella Sanchez-Nelsen |
| Sue Anderson | Sandi Fabry | Aimee Lyon | Liana Sandin |
| Sharon Anderson-Towery | Soni Fabry | Jane Maly | Janna Sasse |
| Jennifer Ankerson | Carrie Fangman | Linda Maly | Kayleigh Schafer |
| Debbie Anstine | Katherine Fergen | Michelle Manning | Marcia Schlegelmilch |
| Jill Arth | Susan Ferris | Angie Maranville | Debbie Schlentz |
| Julie Armstrong | Kim Fix | Julia Marble | Jill Schneider |
| Gloria Aron | Kristal Flaming | Jaime Markowski | Lacey Schoenbeck |
| Linda Ashelford | Norma Fuhr | Lisa Marple | Christie Schroff |
| Denice Aten | Nancy Gabelman | Caitlin Mason | Danielle Schuering |
| Marcela Aten | Sue Gabriel | Lori McClurg | Cindy Schwaninger |
| Sheree Bacus Regier | Karen Gagner | Rachel McConnell | Mary Jo Schwenka |
| Shelley Baldassano | Pam Ganz | Faith McCown | Kendall Scott |
| Sarah Baltensperger | Katie Garcia | Mary McCown | Jenn Seckinger |
| Nancy Bare | Patti Gardner | Anne McGee | Mary Senne |
| Angela Barry | Jessica Gasper | Mikki McGuire | Alyssah Shane |
| Jennifer Bass | Mayor Leirion Gaylor Baird | Denise McLain | Karen Shea |
| Molly Bates | Tammy Gebers | Heather McNally | Liz Shea-McCoy |
| Susan Baylor | Nancy Gerrard | Shawn Meister | Jo Sheets |
| Lisa Belden | Lisa Glathar | Dawn Menard | Jan Sheridan |
| Laura Bell | Caitlin Glenn | Melissa Meranda | Jeanne Sheridan |
| Dr. Tracy Bender | Denise Goin | Susan Meyerle | Holly Sidlo |
| Amanda Bensley | Susan Gourley | Mary Sue Meyers | Rachel Singsank |
| Cherie Birkel | Victoria Grasso | Joan Michelsen | Denise Sinsel |
| Sarah Bisbee | Jessica Greenwald | Lu Ann Milius | Michelle Skala |
| Rachel Blake | Judy Greenwald | Janet Millnitz | Peg Slagle |
| Georgia Blobaum | Tara Gregg | Sarah Minarick | Jill Smith |
| Cathy Blythe | Brit Gunther-Lehman | Lori Molzer | Julie Smith |
| Vicki Boesche | Rhonda Haas | Dawn Montecuollo | Jana Spilker |
| Becky Boesen | Kathy Hall Asboe | LuAnne Montgomery | Michele Steckelberg |
| Glenda Boesiger | Sheri Hammett | Marilyn Moore | Kathy Steinauer Smith |
| Sarah Bonesteel | Judy Haney | Susan J. Moore | Deila Steiner |
| Terrie Boring | Diane Hansen | Susan Kelly Moore | Whitney Stivrins |
| Barb Brandenburgh | Laurie Hansen | Becky Mooss | Karen Stubbendeck |
| Maureen Brase Houchin | Terry Hansen | Angie Muhleisen | Nancy Stuckey |
| Kay Brass | Cynthia Harre | Britta Muhleisen | Maranda Stuhr |
| Stacy Brass | Kirsten Harris | Lindy Mullin | Caitlin Summerlin |
| Emma Brenn | Heidi Hayes | Ashley Myhre | Suzanne Sughroue |
| Diane Brestel | Sue Hedrick | Gayla Nelsen | Leigh Sutton |
| Misty Brouillette | Julie Heftie | Christine Neukirch | Mandy Svoboda |
| Doris Brown | Connie Heier | Ann Noecker | Cindy Swanson |
| Jennifer Brown | Becky Heinzman | Emily Norman | Janet Swanson |
| Tara Brueggemeier | Nancy Heiser | Jill Novak | Roxane Swanson |
| Lorrie Bryant | Lori Hemmett | Natalie Nygaard | Katie Taddeucci |
| Beth Anne Bryson | Linda Hemmingsen | Angie Oberg | Amber Tate |
| Barb Bucher | Priscilla Henkelmann | Rosemary Ohles | Nancy Taubenheim |
| Karen Buchfinck | Becca Henry | Taylor Ohlmann | Nancy Tegeler |
| Kerstin Buckley | Shawna Henry | Julie Olson | Cindy Terwilliger |
| Deb Buhro | DeeAnn Higgins | Amanda Ostergard | Jan Thelen |
| Cindy Bunger | Heather Hilgers | Holly Ostergard | Cheryl Thompson |
| Susan Burkey | Julie Hill | Carolyn Otte | Karen Topp |
| Wendy Burns | Heidi Hoffman | Katherine Owens | Wendy Tridle |
| Shelby Byler | Dawn Holland | Cheri Parent | Nora Turner |
| Ann Campbell | Kadi Holmberg | Malissa Pauling | Cristy Twombly |
| Kathy Campbell | Jen Hubbard | Maura Penas | Jennifer Ulrich |
| Suzanne Campbell | Amy Hudson | Rainee Penfield | Kara Ungerman |
| Joan Campbell Foote | Nicole Huryta | Lana Peterson | Jenny Unruh |
| Pat Carlson | Chassidy Jackson-Goodwin | Meredith Petrick | Caroline Vuchetich |
| Mary Carper | Barb Jacobsen | Kristen Pfeil | Tracy Vuchetich |
| Joan Carstensen | Elizabeth Jessen | Andrea Phillips | Marilyn Wagner |
| Paulette Cary | Jamie Johnson | Paige Piper | Michelle Wagner |
| Marcia Cederdahl | Libby Johnson | Julie Pittenger | Petra Wahlqvist |
| Mary Jo Cherry | Alexis Johnson Brass | Mary Plageman | Alex Wallace |
| Kerry Christensen | Ashley Johnston | Anna Pressler | Liz Wanamaker |
| Rhoda Claridge | Betsy Jones | Jan Prettyman | Marissa Wanamaker |
| Kristen Cline | Nicole Juranek | Katie Provancha | Teresa Wanser-Ernst |
| Alissa Clough | Buffi Kamery | Susan Quambusch | Barbara Wenz |
| Rhonda Coash | Jacqueline Kane | Suzie Rager | Pam Wessel |
| Melissa Cochrane | Maggie Kane | Nishma Ramos Gonzalez | Kelly Wiley |
| Sara Crook | Barbara Keating | Alison Rash | Amy Williams |
| Susan Crotteau | Shane Kennett | Joyce Ratliff | Susie Wilson |
| Heidi Cuca | Mary Kent | Karen Ravenscroft | Kristen Windle |
| Donna Curtis | Michelle Keogh | Sharilyn Rector | Susie Windle |
| Jeanine Curtis | Mary Kingery | Ashlee Reed | Megan Woita |
| Mary Curtis | Susie Kinsey | Janice Reinsch | Linda Wolfe |
| Deanne Damkroger | Sue Kittinger | Alexandria Reznicek | Donna Wolzen |
| Sherri Daubert | Carol Klaus | Jenna Rhodes | Barbara Woythaler |
| Sarah David | Tara Knuth | Diane Richters | Carly Woythaler-Runestad |
| Linda Davis | Rebecca Kouma | Jamie Riha | Gwyn Wright |
| Kerri Denell | Laura Krafka | Kim Robak | Sara Wubbels |
| Martha Denell | Halley Kruse | Joan Roberts | Cathy Young |
| Cindee Devall | Shannon Kuehn | Kylee Roberts | Danielle Zabawa |
| Judy Dinneen | Kate Kulesher Jarecke | Kate Rodysill | Miriah Zajic |
| Pam Dinneen | Michaella Kumke | Jennifer Rokeby-Mayeux | Sherry Zehr |
| Sharla Dinneen | Linda Kurkowski | Judy Roper | Mara Zigurs |
| Sheila Dorsey Vinton | Sheryl LaDuke | Kerri Roper | Lejla Zubcevic |
| Joyce Douglas | Liz Lange | Marcia Roth | |
| Erin Drummond | Phyllis Larsen | Avery Runestad | |
---
Past Wonder Women