Mission, Vision and Guiding Principles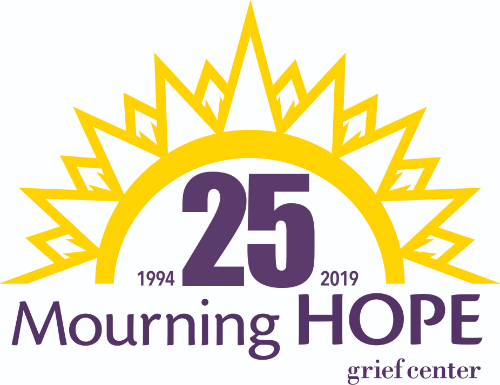 Mission Statement
The Mourning Hope Grief Center companions grieving children, teens, young adults and families when someone significant in their lives has a serious illness or has died. Mourning Hope provides free support groups, community education, grief resources and referrals. 
Vision Statement
The Mourning Hope Grief Center will be recognized as the premier provider of grief support services for youth and families in Lincoln and surrounding communities. Mourning Hope envisions a society which values and encourages healthy grieving practices. The Center will serve as a safe haven of support, hope, companionship and unconditional acceptance for each person seeking assistance. Through innovative programming, specialized support services, and knowledgeable instruction, Mourning Hope will foster a healthy response to grief, one child and one family at a time. 
Guiding Principles
Mourning Hope envisions a society where all grieving children are embraced, listened to, understood and effectively supported by their families, teachers, caregivers and others significant in their lives.
We envision that within each grieving family, parents and caregivers model healthy grieving strategies, while understanding the unique needs of their youth. 
We envision a society which values and encourages healthy grieving practices such as openness to talking about losses, embracing the pain of loss, remembering those who died, searching for meaning and giving and receiving ongoing support. 
Through best practices, education and innovation, we will measurably improve the lives of individuals in the communities we serve.
We acknowledge that bereavement practices vary in profound ways depending on cultural background. The Center will create an environment that honors the culturally distinct mourning rituals, traditions, and behavioral expressions of grief experienced by program participants. 
In partnership with our staff and volunteers, and in collaboration with other organizations that share our goals, we will commit our resources to programs that are ethically, socially and financially responsible. 
With patience, empathy, openness and a willingness to listen with our hearts and minds, Mourning Hope humbly companions each person who seeks support.
NAGC Standards of Practice
The National Alliance for Grieving Children established Standards of Practice which provide professional practice standards for organizations or individuals offering bereavement support services or counseling to children or teenagers grieving a death. The Standards were written by professionals throughout the childhood bereavement field, and reflect the values and practices of a variety of support models.
In August 2014, the Mourning Hope Grief Center's Board of Directors voted to adopt these Standards of Practice and Mourning Hope's Board and Staff agree to abide by these Standards.